Audio Guide to Spring: Mayflies
IPR's Red Pine Radio brings you nature spotting tips and wildlife news from northern Michigan.
MAYFLIES
If you're kayaking or floating down the river this weekend, you might find yourself floating through an abundance of hex mayflies. They're not fun for us kayakers, but a wonderful sight for brown trout.
Fly fishers call these emergences bug hatches. They help fishers determine where to fish and what lures to use.
"Fish love to feed on them as they're rising through the water column. And as they're resting on the surface, they're pretty easy targets. So a lot of times when the hexes are coming off, fish bellies get filled up pretty quickly," DNR fisheries management biologist Heather Hettinger says.
The hex mayfly is a small aquatic insect with translucent wings and two tails known as styli.
"They're what everybody calls fish flies," Hettinger says.
The mayflies we see zooming across the tops of our lakes and streams are in one of four metamorphic stages. This last flying stage only lasts between 24 and 48 hours.
To understand why the mayfly is so important to a fish's diet, we have to go back to their first stage after hatching.
Mayfly mothers lay eggs on top of the water, where the eggs later sink to the bottom and stick to plants and stones. The eggs can take anywhere from a few days to a couple of weeks to hatch, which is when they become nymphs.
During the nymph stage, they spend up to two years foraging at the bottom of the water before becoming adults and heading for the surface. When it's time for them to emerge, they surface and change once again, this time growing wings that leave them vulnerable to attacks by fish.
And while the mayflies wait for their newly formed wings to dry, the fish are invited to a veritable mayfly buffet. This presents a challenge and an opportunity for fly fishers making lures.
Hettinger says these bug hatches are a bit of a double-edged sword — the abundance of insects is a good indicator of what a fly fisher can use for a lure, but it also means that the fish can overeat.
"A lot of times you want to try to start fishing right at the start of the evening when those bugs are coming off so that you're in the early mix," Hettinger says.
She says fly fishers have to be strategic. They have to carefully consider timing, location and maybe most importantly, the tying of the lure. Each one is carefully tied to resemble fish species' favorite foods.
"It really very much is an art form," Hettinger says.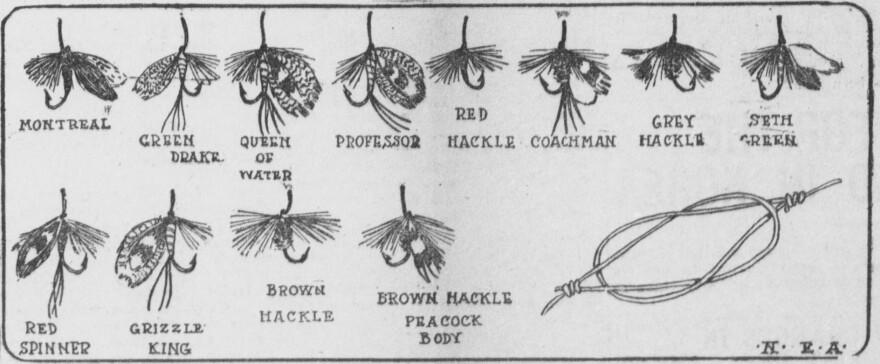 In Michigan, lures are tied to resemble aquatic insects most of the time, but they can be tied to resemble larger prey like crayfish as well.
So next time you're near the water, annoyed by swarms of mayflies, just remember that it's fly-fishing season.
WATCH FOR ...
Bird migration is over, but dragonflies and butterflies will be around all summer. Doug Cook, one of our local birding experts, said there's always something new to see.
"If you're bored with birding, try dragonflies or butterflies," he says. "It's very difficult to identify dragonflies because sometimes you have to have them in your hand with a lens to look at the tail tip and identify whether it has a couple of hooks on it or not."
One tool you can use to help identify dragonflies — and pretty much anything else in nature — is the iNaturalist app. The app uses AI and your location to identify species in a photo you've uploaded. You can also cross-check your results with other members on the app.
Let us know what you're seeing! Send your photos of northern Michigan flora and fauna to ipr@interlochen.org. Put "Audio Guide to Spring" in the subject line.
Special thanks to Leslie Hamp, who also reported for this episode.
More from IPR's Red Pine Radio:
Want more news from northern Michigan? Subscribe to IPR 's newsletters!