Education is a big issue in northern Michigan, whether we're reporting on school funding issues to breakthroughs in the classroom.
Improving reading scores for at-risk students means tackling it from many directions
The pressure is on for districts and teachers to have their students reading proficiently. That's after Michigan's third grade reading bill passed this month. The bill says that students who don't read well by third grade might be held back. It would take effect in three years. So for schools that are struggling, that means turning things around fast. There's a grade school near Traverse City that has been trying to figure out how to do that.
Blair Elementary School is considered an at-risk, high-needs school. That's because a higher percentage of Blair families struggle financially. Kirsten Morgan, the principal at Blair, says students living in poverty often struggle academically.
"They have historically under-performed [compared to] their more economically advantaged peers," she says. "This building was no exception to that."
"I really view what we're doing here as kind of life and death for students. That we are attempting to change their trajectory." - Principal Kirsten Morgan
Among Traverse City Area Public Schools, Blair usually performs among the worst.
In addition to poverty, a number of Blair kids experience trauma at home – things like substance abuse or domestic violence. That also makes it harder to learn. And Blair has the highest percentage of students with special needs in TCAPS' elementary schools.
Kirsten Morgan says a few minor changes won't be enough.
"I really view what we're doing here as kind of life and death for students," says Morgan. "That we are attempting to change their trajectory."
Morgan says we should be putting everything into our elementary schools. They should be "palaces."
"If we want to do things different in this building," she says, "it is going to require a systemic overhaul."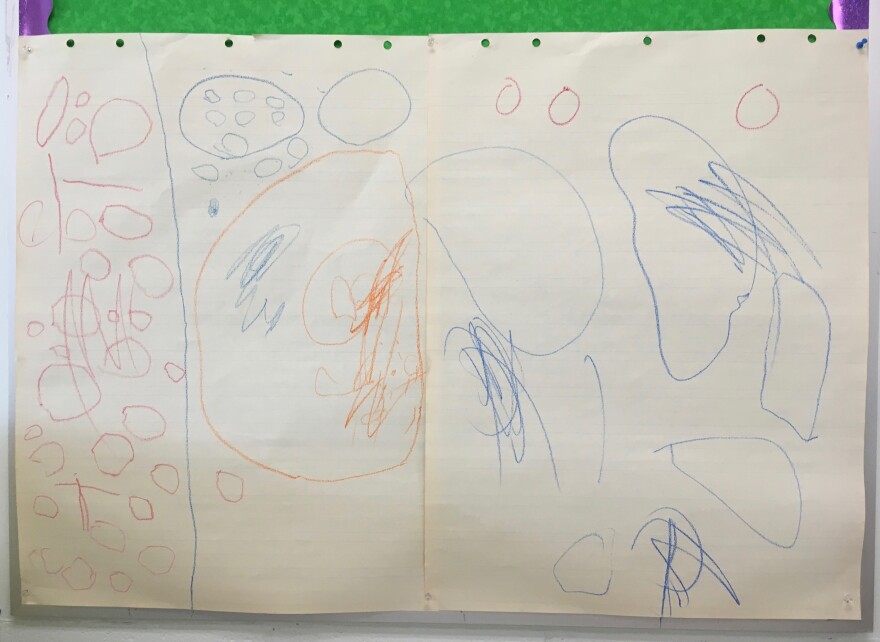 Systemic overhaul
Morgan came to Blair three years ago in fall of 2014. At that time 31 percent of students were reading at or above average.
One of the first things she did was ask TCAPS for an extra classroom teacher. She wanted to teach all straight grades at Blair instead of one combined third/fourth grade class. But when she got her budget for the following year an extra teacher wasn't on it.
"Everybody is worthy of having the very best educational experience. Some kids actually need it or they're not going to move forward." - Principal Kirsten Morgan
In her second year at Blair, Morgan did change the schedule, so kids read longer each day, and Blair started a free parent support group. Parents got gas cards and free dinner and childcare when they attended.
Morgan also got more staffing for reading instruction and more help with special education students. She also made some changes to how they deal with behavior problems at the school.
Behavior problems
Morgan says they have a number of kids at Blair with behavioral challenges, things like impulse control and regulation of emotions. As Morgan walks by a second grade class in September, a boy is flicking the lights on and off during the teacher's lesson.
Morgan asks one of the behavioral specialists, Sara Parker, what's going on.
"He's going to go into lighting for concerts," Parker jokes.
Morgan says they often use humor to lighten up more challenging moments, but they also take it very seriously. The other behavioral specialist takes the child to her office to talk about what's going on for him.
Morgan says behavior problems often get in the way of reading. So helping kids behave well is an important part of the changes they're making.
"My job and the job people of the people working with these children is to say, 'What do you need? How do I help you meet those needs so that you can be a learner,'" says Morgan.
Last year behavior problems decreased drastically. For example, disruptions decreased by almost 70 percent.
Making big changes at Blair meant Morgan had to be persistent and patient. In her second year, TCAPS did give Blair that extra classroom teacher. That was a big move. It meant more resources were going to Blair than other schools in TCAPS, but Kirsten Morgan says that's how it has to be.
"Everybody is worthy of having the very best educational experience," she says. "Some kids actually need it or they're not going to move forward."
Morgan says she felt both euphoric and panicked. The district was recognizing that Blair needed it more, and now Morgan had to make it count.
Reading
Morgan had the extra teacher … now she needed a new language arts curriculum. Blair settled on Core Knowledge Language Arts.
"I absolutely love it," says fourth grade teacher Bryan Kay. "It gives a really succinct guide as to what to teach for reading and writing, especially in fourth grade."
On a day in September, Bryan Kay gives the fourth graders a reading exercise where they learn about descriptive words. Aubrie Johnson works with her partner. She underlines the descriptive words, identifying them as something she can see, hear, feel, taste and smell.
"You can hear the ball bouncing," she says. "You can see a small, black dog."
Kay says since they started the new curriculum his fourth graders' national test scores have spiked. And that was true for the entire elementary school. After a year with the new curriculum and an additional teacher, the number of students reading at or above average increased by almost 20 percent.
Blair actually improved more than any other elementary school in TCAPS that year.
The words Kirsten Morgan uses to describe her reaction to Blair's test scores: "euphoria." She says she still tears up thinking about it.
"I think it's just such a big deal," says Morgan.
Nancy Flanagan, a retired public school teacher who writes a blog for "Education Week," says Blair's scores are impressive.
"If I were the principal and the teacher," Flanagan says. "I would look at these and say, 'what we're doing is working. We're clearly making big strides, and the strategies and the programming that we're using is doing what we want it to do.'"
But Blair didn't have success across the board. On the state test, M-STEP, they hardly improved. In the past two years, less than 40 percent of students were considered reading proficient. The M-STEP is the test that will help determine – in the future – if third graders move on to fourth grade. If that law had been in effect last year, around 45 percent of Blair's third graders might have been held back.
"You want to be really clear," says Principal Kirsten Morgan. "Our work is not done, and one good testing year doesn't mean much. Let's get five or six under our belt, and we can say, 'yeah, we got this.' We're still figuring this out."
The Blair staff has some time to do that. The new law doesn't take effect until the 2019-2020 school year.