Despite pandemic, business booms along Lake Michigan's shoreline
Update 3/25/20, 3:30pm: Due to the coronavirus pandemic, on Monday, March 23, Gov. Gretchen Whitmer announced temporary requirements "to suspend activities that are not necessary to sustain or protect life" through April 13, 2020. Under that order, limited forms of construction are still permissible, including projects necessary "to maintain and improve the safety, sanitation, and essential operations of residences." A spokesman for the Michigan Department of Environment, Great Lakes and Energy says whether or not that includes shoreline construction "is dependent on the purpose and necessity of the shoreline work, and is case-specific." He says contractors, their legal counsel and homeowners need to make that determination and if they are still unsure, contact the Governor's office for more clarity.
At a time when many Michigan companies are slowing down due to the coronavirus pandemic, business is booming for contractors working along Lake Michigan's shoreline.
They're fighting a different crisis — trying to save people's homes from extremely high water levels.But with so much demand, there's little to stop unqualified contractors from jumping in on the action.
Around this time last year, Anthony Ganss was plowing snow.
This year, he's working on a new 400-foot long seawall meant to protect three homes in Manistee from the high waters of Lake Michigan.
"So right now, we're backfilling behind this section of wall," he says. "We're going to get our backfill put in and then we can start placing our riprap on the front side of the wall, which will probably be tomorrow."
Ganss is the owner of a small outdoor services company. He had done a lot of retaining walls and other landscaping projects but never a seawall. Then late last year, some customers started asking him about it.
"We started looking into some of the jobs, and for us to do it, the guys we have employed were experienced in it, so that part of it wasn't a big deal," he explains.
"We decided they needed help."
This winter, work has been steady and Ganss didn't have to lay off any of his five employees. Since November, they've done about 10 shoreline protection projects and despite the coronavirus pandemic, they're gearing up for a lot more.
"This is going to be a great jumpstart for our year, as far as what we would typically do," he says. "We're way ahead right now than we would be any other year in the past. So, it's definitely going to help us as a company and help us to grow to be a bigger company."
Near a job site in Mears, just north of the Silver Lake Dunes, contractor Curt Hall stares out at Lake Michigan.
Hall has also seen a ton of growth recently, doubling his workforce from about 15 workers to around 30.
Today, he watches waves crash against huge chunks of broken-up concrete piled on the shoreline. He says they're probably put here in the 1980s. That's the last time Lake Michigan water levels were this high.
"You can see all the concrete chunks I was referring to at the other project, he says, pointing out rebar sticking out of the slabs. "They look like they came out of a highway project."
Some say this sort of thing was pretty common back in the 1980s. Concrete chunks — even old cars were dumped on the shoreline to try to stabilize it.
"Desperate times call for desperate measures," Hall says. "That's a desperate material, because it's not really suitable for the lakeshore."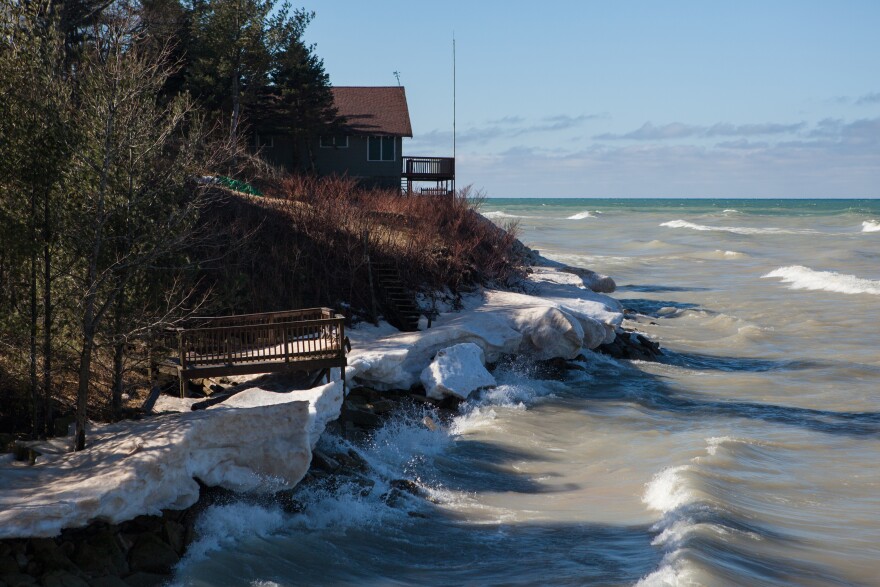 All the work being done stands to get tested this summer. That's because the U.S. Army Corps of Engineers is forecasting Lake Michigan to rise another eight inches by July.